ETimer Application
ETimer application is simple yet flexible implementation of timer that can be used to split and manage your personal time. Its creation was motivated by Procrastination hack: "(10+2)*5"

article. Basically ETimer counts down chunks of time and notifies you of their state changes.
Features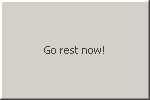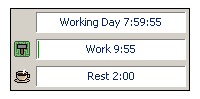 ETimer features list includes:
tree-like list of tasks
tray control icon
small and handy timer window
tasks list configuration in XML
support of voluntary sound notifications
support of popup dialog notifications
Downloads
You are free to download and use latest version of ETimer in form of: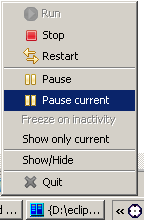 Requirements
ETimer requires Java 2 Runtime Environment of version 1.5 or higher to be installed on a target machine to run.
Copyrights & License
ETimer application, all its binaries, resources and sources are licensed as it is described in Apache Foundation License v2.0.